Hello 2019! Now's the perfect time to examine your current CX strategy and to start planning for the year ahead.
What happened in 2018?
When building your new CX strategy, the first stage is to step back and review the past year. Did you meet your CX goals, or were there areas which should have got a little bit more attention? Now is the time to reflect – celebrate your successes but try to recognise your mistakes and learn from these.
Look at the new business landscape
Your business industry climate is always changing, and your new CX strategy needs to reflect that. Research your industry, and wider economic space, to truly understand where your business sits. Catch up on webinars, blog posts, subscribe to a new industry magazine and use every opportunity to network. It's also important to know your competitors and what experiences they offer; not only to make sure you're not falling behind, but also to be sure that your product or service is offering a unique experience.
Forrester[1] says CX strategy flows not only from the overall strategy but also from understanding customers, business partners, internal stakeholders, and the market — looking for the sweet spot where business value, customer value, and opportunity align (see Figure 1). This requires that you:
- Understand your company's business;
- Understand your customers;
- Understand where you're starting from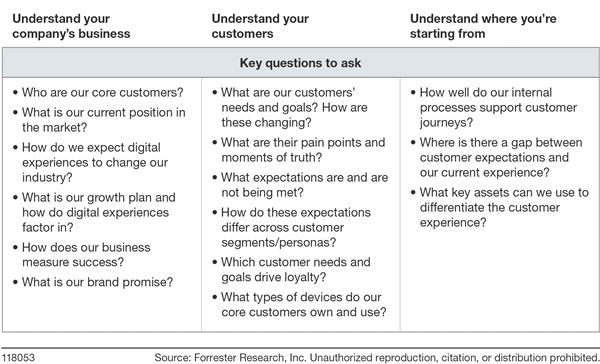 Start innovating, not imitating
To truly take your CX to the next level, innovation and creativity need to be a key part of your 2019 CX strategy. If you simply look to your competitors for inspiration your customer experience won't stand out from the rest. To truly set yourself apart, you need to not only understand your customers and customer journey, but also think about the wider market place and trends. Automated Intelligence (AI) is one trend that's set to be a massive player in 2019, especially with the rise of chatbots and natural language processing. If you missed last month's blog about AI and other 2019 trends you can find it here
How do we get there?
Once your new CX goals are identified and vision established, it's time to develop your CX strategy to answer 'how do we get there?'
Start by setting out a roadmap for the year ahead with key milestones and assign each goal to a specific person to be accountable for reaching it. Schedule regular catch ups to maintain momentum and to keep CX on the radar – it can be easy to lose sight of the bigger picture.
Strategies also need to be forward looking and have an actionable level of detail – vague and unfocussed ideas without clear direction and measurability are far less likely to be successful.
Measuring success
To understand whether your CX strategy is a success, you need a system in place to measure it. That goal might be a sustained increase in NPS, increased sales or a higher number of repeat purchases. This needs to be specific and relevant to your business and overall company-wide strategy – just because one company measures success with NPS does not mean it's necessarily the right fit for your own.
Customer experience strategy isn't something that can be completed and ticked off the list in January – it's an ongoing process and requires constant attention. Stakeholders and executives should revisit the CX strategy regularly and look for ways to manage and optimise efforts. Remember customer feedback programmes are only a success if they make a positive impact on the overall customer experience and help the organisation meet their own business objectives.
[1]
How To Build The Right CX Strategy, January 2017, Forrester